Keep up to date /
Graduate vacancies are set rise, despite skills shortages
Categories
Posted in Candidates, Employers on Feb 02, 2015 by Richard Hayden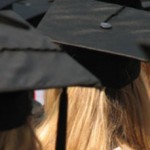 Employers predict an 11.9% rise in graduate vacancies in the coming year, according to the Association of Graduate Recruiters (AGR).
This is an increase of 4.3% compared with the same time last year.
The AGR's annual survey, which this year is based on the responses of 201 of its members, also found that 44.8% of employers had unfilled vacancies in 2013/14.
Unfilled vacancies were highest in the IT/Telecoms sector, where 11.8% of graduate vacancies remained open. Employers cited students reneging on offers, or not being able to find the skills they needed as reasons for these vacancies staying open.
AGR chief executive Stephen Isherwood, said "tensions persist" in the graduate recruitment market. "Employers would have recruited more graduates – over 1,400 more – if they could have found enough candidates with the right mix of skills," he said.
The survey also indicates that organisations are increasingly recruiting young people at school leaver level, as well as at graduate level. Almost three-quarters (72.7%) of respondents said they plan to offer school leaver recruitment programmes in 2014/15, up from 54.7% in 2012/13.
Isherwood commented: "More employers engaging with the schools market is a good thing. It means businesses are thinking more holistically about their talent strategies. It also means a greater variety of opportunities for young people".
Key sectors for graduate recruitment
According to the research, the top five sectors for graduate recruitment are:
1. Accountancy or professional services
2. Public sector
3. Engineering
4. Retail
5. Banking or financial services
Register your CV with Key Appointments
At Key Appointments we work with companies and organisations in different ways, enabling us to open doors across a range of sectors. As a candidate being represented by Key Appointments, you can expect that we will listen to what you want and develop a thorough understanding of your experience, skills, needs and goals. As experts in our field, we are highly skilled in matching the right opportunity to the right individual and we guarantee to only present you with the career opportunities that are right for you. Finally, we will guide you through the recruitment process, providing advice and support to help you to secure your dream job.
Register your CV
here
- See more at: http://www.hrmagazine.co.uk/hro/news/1149359/graduate-vacancies-predicted-rise-despite-skills-shortages#sthash.zLCeFUuk.dpuf
Receive all our latest news and updates
Latest from the blog
2nd August 2022
Is your workplace benefits package working for you?
At a time when many sectors are not only still dea... Read more
Read all blog posts