Keep up to date /
How to Build Confidence and Establish Yourself in Your New Role
Categories
Posted in Candidates, Training & Development, Workplace Wellbeing on Nov 11, 2021 by Keeley Edge
Embarking on a new role can be nerve-wracking and, as you begin to find your feet in an unfamiliar workplace, you're likely to experience a string of complex emotions. Acknowledging your nerves is the first step in overcoming new job anxiety and building the self-confidence required to master your new role. Here are some strategies to follow that the team at Key Appointments have put together to help you battle the nerves and pave the way to a successful first few weeks.
Taking The Time to Prepare for Your First Day
While a new job isn't something you should be afraid of, nerves often stem from a fear of the unknown. Rather than focusing on what you can't control, think carefully about what you can control by making preparations in the lead up to your first day. This covers everything from researching the organisation in depth to laying your outfit out the night before. It's also always a good idea to plan your journey in advance to ensure you arrive well in time.
Setting Realistic Expectations for Yourself
Having confidence in the workplace isn't something that happens overnight. You must learn to develop this inner strength through discipline, positive reinforcement and practice. Your employer should understand that you need more than one day to establish yourself in your new role and to feel comfortable with both your colleagues and your working environment. Maintain reasonable self-expectations by reminding yourself that you're new to the job. This is your opportunity to ask lots of questions and to absorb invaluable new skills and knowledge.
Making Stellar First Impressions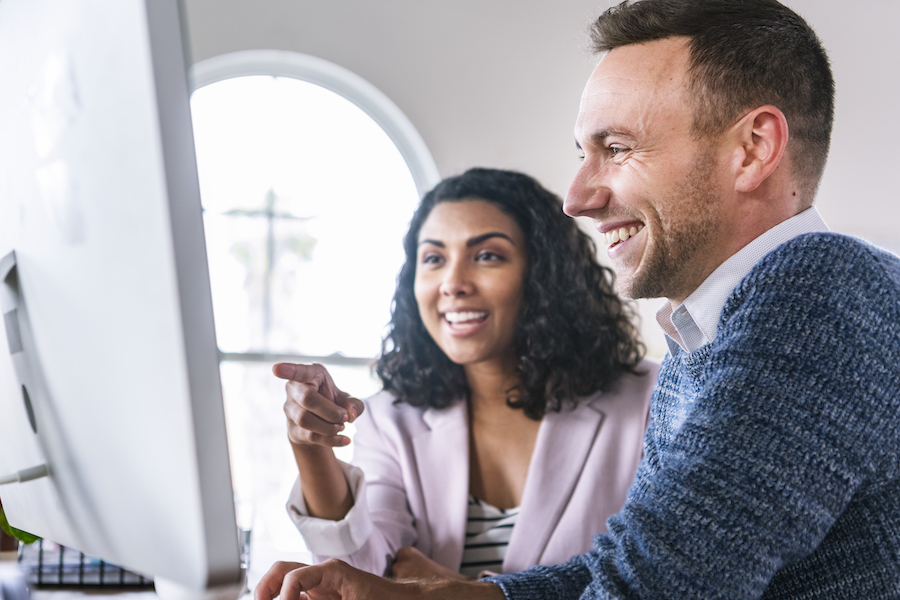 It only takes a handful of seconds for a person to evaluate you when they meet you for the first time and these initial impressions are stubborn. It is therefore critical to establish the foundations of a strong working relationship from day one. Use your body language to project confidence and focus on building trust and earning the respect and integrity of the people around you by being your authentic self.
A Positive Attitude Is Always a Winner!
Think of your new job as a positive learning experience and an opportunity to grow and develop in your professional life. Negative thinking expends a lot of unnecessary energy. By adopting and maintaining a positive attitude at work, you open yourself to new challenges and opportunities and find yourself less distracted by negative thoughts. Armed with a positive outlook, you become a better decision maker and inspire those around you to think in a similar way.
We hope we have helped to unburden your mind and filled you with confidence ahead of your new journey. Take a look at our previous blogs for further expert advice, visit our job vacancies page for current listings, or speak to our friendly team by phone on 0844 504 4666 or by email: info@key-appointments.co.uk
Receive all our latest news and updates
Latest from the blog
7th June 2022
Why graduates are good for SMEs and SMEs are good for graduates
Have you been put off hiring a graduate in the pas... Read more
Read all blog posts